Top 5 Best LED Strip Lights for Home and General Lighting Decor
LED strip lights are one of the latest and greatest innovations in the lighting field. They place individual LED emitters on flexible narrow circuit boards. In addition, they use low-voltage DC power and have fixed or different color and brightness levels.
With these characteristics, they are sponsored as an excellent choice for decorative lighting because they can even be designed and placed on irregular and unconventional surfaces.
In this guide, we will present our Top 5 picks of LED Strip lights for general lighting decor and your home. This is a collection of LED Strip lights that are good for all purposes and can be used in your home.
What makes LED strip lights the best?
Let's discuss the factors that make these LED strip lights the best lightning solution out there. There are many ways to illuminate your homes, but why choose LED Strip lights? We are here to answer.
Brightness
Variable brightness is one of the most prominent benefits of using these LED strip lights instead of other solutions. You can decide the level of brightness by using just an app or remote control. This is considered to be one of the coolest features of LED strip lights.
The factors that affect the brightness of the LED strip lights are LED emitter, power consumption, and the number of LEDs per foot. In addition, LED strip lights generally use less power, resulting in lower power usage.
With this, Watt will not help determine the brightness of LED lights. Instead, its brightness is expressed in lumens per foot. Ideally, to get the right brightness, the LED strip lights should have at least 450 lumens per foot.
To give you a better understanding of this, a 40W incandescent bulb is equivalent to a foot-long 450-lumen LED strip light. Having said that, to determine the brightness, you must always check the metric lumens of the LED strip lights.
Density
Density determines the brightness capacity of these LED strip lights. The higher the density, the brighter it can get. This means that, if you want to keep the brightness to a certain limit – you can do so by limiting its density. The full brightness of some LED strip lights will be different from others based on their density.
If the density of LEDs per foot is low, dark spots sometimes appear between the LED emitters. This means that the higher the number, the lower the chance of these black spots.
To get a reasonable and uniform LED strip lights brightness distribution, there must be at least 36 LEDs per foot. If you manage to get the right density of LED strips, it will be like experiencing the performance of T8 fluorescent lights to some extent
Color
Compared with traditional lights, LED strip lights are more versatile in color and tone. In terms of LED strip lights, you have many choices. They can even be used in infrared! You can also enjoy the benefits of all these colors with color-changing LED strip lights.
They usually use RBG to mix and match the colors you want. On the other hand, LED strip lights with individually fixed colors have a simpler system and stand out in their way. White is the main color in the home and general environment, with different shades.
Color temperature is one of the main factors that determine the virtual appearance of light. The temperature of the light here can be warm or cold. A lower color temperature, such as 2400K, will appear pale yellow, making it emit a soft glow.
In contrast, a too high color temperature of 6500K looks as white as natural light. If you need to strike a proper balance between two extreme temperatures, 3000Kor 4200K will be some of the best choices.
Top 5 Best LED Strip Lights
There are many options to choose from in the market. However, your decision should always be based on points according to your needs and preferences to ensure that you enjoy the LED strip lights that you have chosen.
Some of these lights differ from each other on the basis of their brightness and color of the lights. LED strip lights can range from solid conventional colors (like white) to color-changing models that are ideal for vibrant lighting decor ideas.
The latter is often available with 16 million colors allowing any mode and scene to be projected. This type is the most flexible as it can be set to a certain fixed color of your choice or have color-changing skills.
Controlling the LEDs is also one of the factors differentiating most models. Far from conventional models that can only be controlled via the built-in control box on the bar itself, there are now models that come with remote control and can even connect to Bluetooth, WiFi, and even Alexa-enabled devices.
A good example is the VOLVO 65.6′, which offers all the possibilities to control the brightness of the lamp according to the color and mode.
However, if you don't like the base color, you can try the famous Onforu 32.8′ UV lamp which is very strong to bring out the neon and intense colors.
In addition to the models mentioned, there are other options worth exploring, especially if you want something more refined and simple.
You can get smart LED strip lights over 65 feet for just about $29. From lighting up your bedroom with a dozen colorful lights to throwing a dance party in the living room, the lights are in sync with the beat of the music.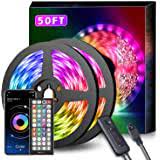 The dimming kit includes two easy-to-install 32.8-foot drums, a power supply and infrared remote control with over 40 modes, as well as a Bluetooth controller with a microphone.
Includes adhesive tape and fastening clips. Everything is controlled by the app, including timer settings and on/off modes.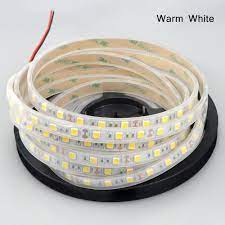 If you want to use your LED strip lights outdoors – for example on your patio, patio, or by the pool – you'll want a kit with an IP-68 waterproof rating. The IP rating is a number is a standardized number assigned to waterproof devices.
This kit fits the bill and features 600 UL certified warm white dimmable LED strip lights with a 12 volt DC power source. It has adhesive pads and you can cut the tape to suit your space, plus it comes with a 2-year warranty and is said to have a lifespan of over 60,000 hours.
For anyone looking to fool their neon color, this LED strip lights set is an excellent choice. It is specially designed for car interiors and has two supply lines with adhesive to cover the driver and passenger.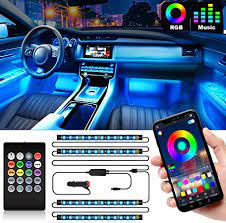 Control the lights with your remote control or smartphone via the app, with voice control options, eight fixed colors, and many custom colors you can create via the app.
Program lights to adjust the rhythm of the melody with several modes including strobe, flash, or fade. This set is also liked by customers with an average of 4.7 stars from 3600+ reviewers.
This kit is perfect for anyone who just wants a TV backlight with a few fun color options instead of a great multi-colored entertainment center experience.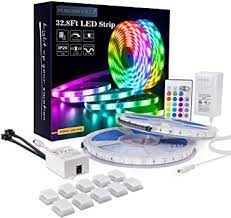 For a very reasonable price of under $12 at the time of this writing, this is what you get. Stretches the sticky backlight behind a flat-panel display (available in two lengths) for 40 to 60-inch TVs.
There are 16 color-changing options plus light adjustment modes, all of which are controlled from up to 8 meters away using the included remote control.
If you are going to have a DJ dance party in the future, this will be your best choice. It has 25 meters of multi-colored LED strip lights that pulse and change to the beat of the music and are controlled via an app via Bluetooth.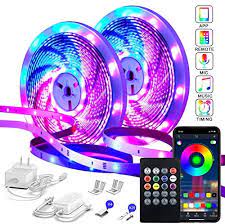 The app offers 16 million color options and 22 light modes, plus a built-in microphone for TikTok sessions and an infrared remote control that can be used up to 20 feet away.
The tape has an adhesive coating and can be cut to match your room lighting and is said to have a 50,000-hour lifespan.
Related LED Products We Love to Use