4 Best LED Strip Lights with Chasing Effect
The chasing effect refers to the feature of LED Strip Lights that enable them to display colors that chase one another. It has gained a lot of popularity and had played a huge role in the popularity of the LEDs themselves.
Even though this feature has been the most popular effect of all the LEDs, not all LED strip lights have it. If you want this effect, you need to buy products that specifically say that they have this feature.
If you want your LED Strip Lights to have a running effect, then you need to buy RGB LED Strip Lights with IC chips. If you buy an ordinary RGB LED Strip Lights bar, you can adjust the light bar to the static color you want, but the color is the same every time.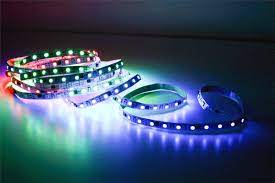 They cannot produce the effect of running water or horse racing. And each pixel of the RGB LED Strip Lights with an IC chip can change the color, brightness, etc. in the entire system, thereby producing rich racing effects, such as horse racing, running water, dragging meteorites, etc.
Where to Use LED Strip Lights with Chasing Effect?
Living Room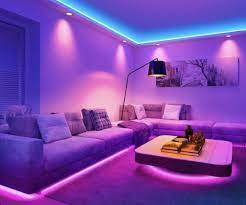 Decorating the living room with pixel LED Strip Lights is definitely the best idea. Especially when you want to hold a family gathering on a birthday, Christmas, New Year, or other holidays, turn on the RGBIC light strip and highlight the work lighting effect, which can make your party lively in minutes. All sides of the ceiling, sofas, coffee tables, etc. are good installation options.
Outdoor Balcony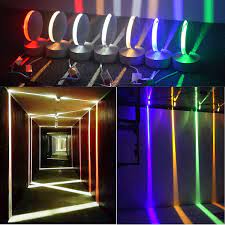 If you are hosting an outdoor party on an outdoor balcony or backyard, then the pixel LED Strip Lights (some people call it Dreamcolor LED Strip Lights ) is definitely suitable. Work mode, speed, light brightness, etc.
You can adjust the light according to your own preferences to help you create the best party effect. If there is a pool around, it is best to buy an RGB waterproof strip. The lamp with an IC chip will not affect the light effect of the lamp strip even if water splashes on the lamp, ensuring your party is perfect.
Bedroom
Wish to see the LEDs glare and change colors in your bedroom to give you that vibe you actually need? If so, then you should choose an RGBIC light strip with a running effect!
Close the door, turn on the light strip, and you can enjoy your own private space! If you are into creating videos for TikTok or Youtube, these effects are trending these days, and can make your videos look a lot more aesthetic!
All Over the House
If you buy waterproof LED Strip Lights, you don't have to worry about the weather. You can hang them on the ceiling to decorate your house. From a distance, it will be a very attractive landscape.
When your friends join the party in a hurry, they can already feel the excitement outside. Click the link to learn more about the Waterproof LED Strip Lights.
Top 4 LED Strips Lights with the Chasing Effect
Here's our curated list of LED strip lights that have the Chasing Effect. This list has been handpicked by our team and consists of top-notch quality Strip Lights that have the effect you need.
1. Dream Color LED Strip Lights, Chasing Effect Neon Rope Lights – Chasing Rainbow LED Strip Lights
Chasing rainbow LED Strip Lights – multiple colors and brightness change simultaneously in a line, seem to chase, jump, dance, and flicker on the light strip, bringing you an amazing visual experience.
Comes with RF remote control
This project has 300 different dynamic chasing effect modes and 12 static single color modes. With its own radio frequency remote control, you can control various colors, modes, brightness, and chasing speed as you like. You can also freeze the color by pressing the color key on the remote control.
Easy to install
Comes with 3M tape, which can be applied to almost any flat, dry surface. They also provide you with an extra 3M tape as a gift to prevent it from falling under extreme conditions. The flexible light string can be cut along the golden mark and adjusted to any length.
The best choice for decoration
Decorate any place and have fun with these rainbow-chase LED Strip Lights. Suitable for indoor and outdoor lighting decoration, such as kitchens, under cabinets, restaurants, bedrooms, parties, terraces, cars, automobiles, weddings, computers, TV backlights, etc.
2. Chasing Effect Led Strip Lights, Battery Powered Waterproof RGBW Neon Dreaming Rainbow Color
It can be individually addressed with higher brightness LEDs and each LED's independently controlled color and brightness, allowing you to achieve millions of fantastic color-chasing effects, such as magic.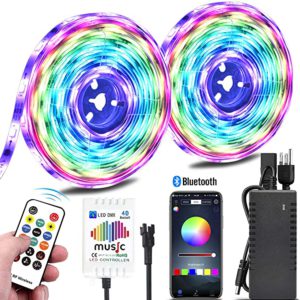 Battery & USB Powered
In the market, there are many convenient places without plugs. It can also be connected to a socket or power bank via a universal USB port. If you string two or more LED Strip Lights together, we recommend that you use a USB to a plugin or use a power bank.
Dynamic Modes
You can change the speed and mode by gently pressing them. The first and third move up and down in 60 patterns, and the middle moves at 5 different speeds. There are basically 300 different settings.
Easy to set up
With the newer connector, the strap and the cable are connected more tightly without loosening. Comes with 3M self-adhesive tape, which can be attached to any flat, dry surface. Clean the surface before installation to ensure that the surface is free of dust. We also provide an extra roll of tape in case you move the light strip later. The silicone-covered LED Strip Lights bar is waterproof, so there is no need to worry about water or moisture damaging the LED Strip Lights, and it is safe to touch.
3. LED Strip Light RGB Chase Effect 5m/16.4ft
The RGB Led strip light kit can show many colors at the same time like a rainbow with dynamic chase effect and You can control the brightness, color, and 350 dynamic modes with remote which allows you to produce amazing and complex effects in a simple way.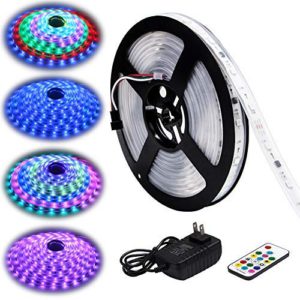 All in one Kit- Simply Plug and Play
Package includes: 5m RGB LED Strip Lights, 21-key Remote, and 12V 3A UK power supply, simply plug and play.
STRONG SELF ADHESIVE
Our tape uses new 3M strong backing. It can sticky very well on TV, Car, Motorcycle, Wall. Just clean and dry the surface where you paste.
Waterproof Design & Cuttable
These strip lights are waterproof and cuttable, making them ideal for indoor DIY decoration.
40 Widely Used
It is ideal for indoor and outdoor lighting decoration, such as party, bedroom, kitchen, Christmas, bar, under cabinet, car, mirror, balcony, patio, wedding, etc. It is a great gift for your family and friends.
kinds of magic rainbow colors-
Following effect RGB LED Strip Lights kit can display multiple colors at the same time as the rainbow, with dynamic follow-up effect, remote control of brightness, color, and 350 dynamic modes, allowing you to create amazing and complex effects
Effects in the all-in-one kit-simple plug-and-play kit include:
5m RGB LED light strip, 21-key remote control, and UK 12V 3A power supply, plug-and-play.
STRONG SELF ADHESIVE
It can be affixed well on TVs, cars, motorcycles, and walls. Just clean and dry the surface to be pasted.
Waterproof and cuttable design
These light strings are waterproof and cuttable, making them ideal for indoor DIY decoration. , Christmas, bars, cabinets, carts, mirrors, balconies, terraces, weddings, etc. This is a great gift for family and friends.
4. Chasing Effect LED Strip Lights 50ft –WS2812B
LED game light-outdoor LED Strip Lights bar can be controlled by a smartphone and has various functions. The color change mode has a variety of colors, which can add vitality to any room. Choose from white, red, blue, green, and advanced chasing color effects. The RGBIC sleep color mode is only found in the best-LED Strip Lights fixtures because it can illuminate multiple colors at the same time.
The 50-foot LED strip
The 50-foot LED Strip Lights is different from most strips, which are longer and stronger, so it can last longer Weather. The top minus the living room lamp is 16.4 feet/32.8 feet. The Chasing Effect strip is long enough to be used in offices, corridors, or large rooms far away from power outlets or power cords.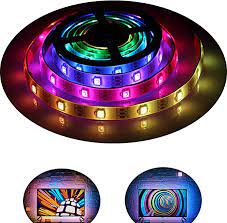 Avoid tangled cables while enjoying the convenient portable light strip. Easy to install, turn on and control. Enjoy the comfort and convenience brought by the wonderful LED Strip Lights. The lights under the Dreamcolor cabinet can be controlled via smartphone/controller, Bluetooth app, and remote control.
EASY TO SET UP, POWER UP, AND
This makes it easy to adjust settings, change from one mode to another, and memory functions. The LED Strip Lights also has a UL-certified power adapter, which can prevent short circuits. Music synchronization compatibility.
We have designed a remote control waterproof LED Strip Lights bar, suitable for indoor and outdoor use. Whether it is adding vitality to a party or decorating a room, you can rely on lights to enhance the atmosphere.
MUSIC SYNC COMPATIBILITY
The microphone is accurate and responsive and can change colors according to the rhythm. You can adjust the lighting settings according to music, a specific order, or randomly. Satisfactory purchase
SATISFACTORY PURCHASE
We strive to ensure that we provide safe, effective, fun, affordable, and durable lighting fixtures. The lighting configuration creates a calm atmosphere and brings a dreamlike viewing experience. If you have any doubts, please contact our friendly customer assistant and we will provide you with a quick and useful
Related LED Products We Love to Use