How to Put LED Lights on TV [4 Easy Steps]
Installing LED lights on TV can provide you with a home theater environment that will take your experience to a whole new level. The background lighting behind your TV will help you enjoy an immersive experience while watching your favorite shows and movies.
LED lighting is an affordable and creative way to illuminate your spaces; which is now also becoming a trend. It is being used everywhere, from cars to kitchens, bars to home offices, and what not! But, using these LED lights behind your TVs is one of the most popular use cases. It also has health benefits.
If you're used to watching TV while keeping the lights off, it can increase the eye strain, ultimately hurting your eyes. If you install these LED lighting solutions behind your TV, you can increase the general brightness in your room, making the eye strain minimal.
In this guide, you'll learn what are the different types of LED lighting solutions available for TVs and how to put LED lights on TV.
LED Strip Lighting Options for TV:
Let's start by discussing the lighting options available to you for your TVs. Broadly, there are two options available, LED strip lights, and LED bars. The first one is a longer-term and fixed solution, while the second one is more of a movable alternative. Let's dive a bit deeper into these two:
1. LED Strip Lights for TV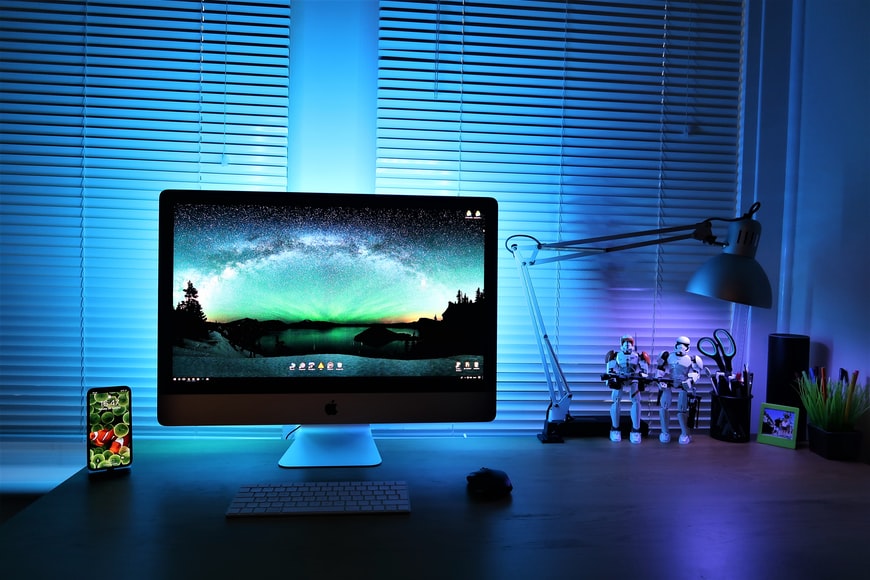 LED strip lights for your TV will be a longer-term lighting solution. By longer-term, we mean that these strip lights are generally installed for longer periods, and are not easily moved from one place to another.
Opting for LED strip lights to install behind your TV will have surprising benefits that are normally overlooked. Apart from providing an immersive experience, these LED strip lights behind your TV will help you alleviate the intensity of your TV brightness; providing you with an experience that doesn't hurt your eyes and mood.
These mood lighting LED strip lights will also let you have a great time watching your favorite TV shows and movies.
2. LED Light Bars for TV
LED light bars, on the other hand, are a more mobile option. They are super cool and you have a ton of great products in the market.
The biggest benefit they bring is that they are movable. While the installations of LED strip lights are mostly permanent and take a larger space, LED light bars are a smaller and mobile alternative. Even though there are limitations because of the wire size they accompany, but you can place them almost anywhere you want – subject to the availability of a power source.
If we compare both the options, LED strip lights for TV are way better. Why? Because LED light bars have very few features and controls as compared to LED strip lights. These features and control options make the LED strip lights the best lighting solution to use behind your TVs out there.
How to Put LED Lights on TV? A step-by-step process:
Now that we've established that using LED strip lights behind your TV is the way to go if you want to enjoy an immersive experience; let's talk about the step-by-step process that you need to follow to install them on your TV. Here's the 4-step process:
1. Measure your TV
First of all, measure the area of your TV. Sometimes, you can run short of LED strips for your lighting project, so it's better to buy longer strips that may result in some leftover. To measure the area of your TV, take a tape and:
Note down the width and height dimensions in inches.
Divide both of them by 12 to convert them into feet.
Double the number of both measurements because you will install strips on both sides.
To give you a rough estimate, you'll need around 9-feet of LED strip lights if you have a 43-inch TV, and you'll need around 15-feet of LED strip lights if you have a 65-inch TV.
2. Select the Best LED Lights for TV
After you've taken your measurements and know how many LED strips you need for your TV, it's time to go online and shop for some LED lights for TV. But, it is not simple as it sounds. You not only need to buy LED lights for TV, but you need to buy the RIGHT LED lights for TV.
There are tons of alternatives out there, and you must select the one that best suits your need. If you're looking for a feature-rich experience, and don't want to save up some cash, you should opt for the strips that provide you with the most features. Probably one of the RGBIC LED strip lights that come with full-featured controllers. But if you are looking for an affordable solution, you should definitely do some research. We also have a recommendation for you if you are looking for LED strip lights that are affordable as well as feature-rich at the same time.
3. Clean the surface and install the lights
After you've selected the LEDs of your choice, it's time to clean the surface of your TV. You can use cleaning liquids or cloth that will get your cleaning done without harming your TV. Once the back of your TV is cleaned, remove the adhesive backing from the LED strip lights and place them. Remember, you should make cuts on corners because bending the strips on corners is not a good idea.
4. Connect the strips
As we just said that bending the strips on corners is not a good idea, you must use 90-degrees solderless connectors to connect the strips after making the cuts. You can also use strip-to-wire connectors if you want, but using 90-degrees solderless connectors will be a better option in this case.
After the strips are cut and connected with each other strongly, it's time to connect the strips to the power source. For LED lights on TV, it is better to buy LED strip lights that can be connected to your TV via USB.
Why USB-Powered LED lights are a better option?
We recommend using USB-powered LED lights for TV for 2 reasons:
They are easy to install and last longer. The USB-powered LED lights often consume less power and are low-voltage LED strip lights that have very little chance of overloading. The decreased risk increases their lifespan as compared to other types of LED lights.

You can save a good amount of money by not having to purchase a separate power supply. Power supplies, in some cases, can be of the same price as the LED strip lights. Using USB-powered LED lights will be a better option if you want to save some money and spend it on getting the best feature-rich LED strip lights kit available.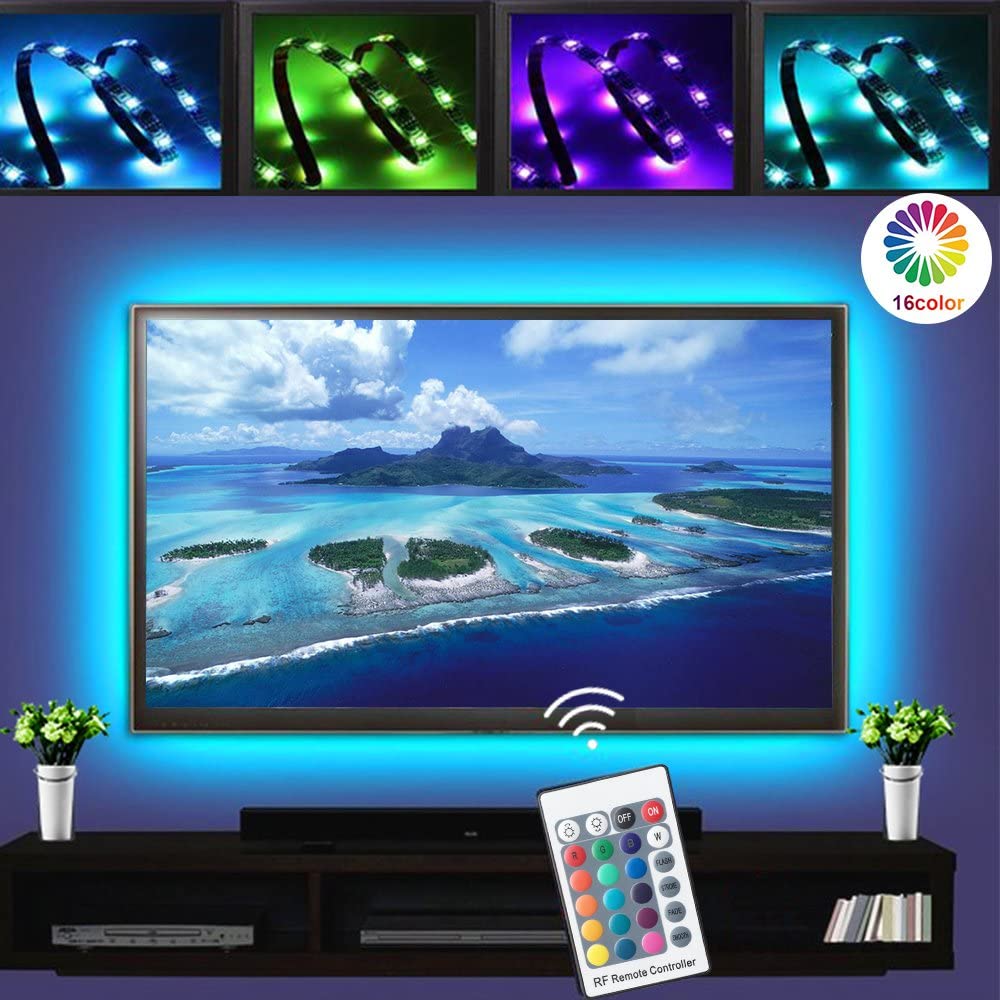 The USB-powered Bias Lighting Kit that comes with an RF remote controller from LightingWill is the best fit for your TVs, PC Monitors, and Home Theaters. The product comes with a 1-year warranty and has all the required features to take your viewing experience to a whole new level. It is an easy to install LED strip lights kit that offers all the top-notch features you look for in LED lights on TV.
Since the LED lights are USB-powered, you'll not need any additional power supply. Just install the lights on your TV, and easily connect the strips with it.
Here are the product specifications for your reference:
Working Voltage: 5V DC.
LED Type: SMD5050 RGB.
Color: Multiple Colors Selection.
Sensor Beam Angle: 120.
Waterproof: Non-waterproof.
PCB Color: Black
Backing: Double-sided strong adhesive tape.
The package includes:
2 X 50cm RGB 5050 LED Flex Strip.
2 X100cm RGB 5050 LED Flex Strip.
1 X RF Remote Controller.
How to Install Govee LED Strip Lights on TV?
Govee LED strip lights are one of the most popular LED kits out there. When it comes to installing LED strip lights on tv, Govee LED Strip lights are the top choice of everyone. 
The process of installing Govee LED strip lights on tv is pretty much the same as any other LED strip lights kit, but the thing that makes Govee LEDs stand out is their premium quality 3M adhesive backing. Anyways, here's how to install Govee LED strip lights on tv:
Measure your TV to make sure you buy the right version of the kit.
Unroll the strips.
Remove the adhesive and place them behind your tv.
Make the cuts on the corners and use solderless connectors to connect the strips with each other.
Connect Govee LED strip lights to the power supply and the power source.
Check out our comprehensive review of Govee LED strip lights to learn more.
Related LED Products We Love to Use