Top 5 LED Strip Lights for Room
Choosing the best LED strip lights for room seems simple, but let us tell you, it is not! There are a ton of brands and some are priced at the level that is just not fair. Most of the overpriced LED lights are the ones that come with a ton of unwanted and unnecessary features.
Room design and decor is a specialized field, but nobody can afford to hire a designer for that. And, not many people want to hire experts for the lighting design of their homes.
The internet is full of inspiration. You can find a ton of lighting design ideas about the best LED strip lights for room out there. But, there's another problem.
Even after finding design ideas, you'll find very few sources on the internet that have useful information on best LED lights. Even if you find some, there will be more marketing without a lot of relevant information. Even though LED lighting is becoming popular with each passing day, there are still very few reliable sources to find information about them.
In this article, we will provide you with suggestions regarding the LED strip lights that are best for installing in your rooms. But, if you want to know about the best LED strip lights for outdoor, we have a dedicated guide for that.
The key is to make an informed decision when buying these LEDs. We help you make that possible. In this guide, we'll educate you on buying the best LED Strip Lights for room.
The 5 Best LED strip lights for Interior
Let's talk about the main topic of the guide. Here's a list of products we have handpicked for you from Amazon that are awesome for your rooms.
Undoubtedly, these are one of the best led strip lights for room.
The first on our list of Best LED strip lights for room is the Govee LED Strip lights. These Govee LED Strip Lights have nearly 33 feet of bright 1,080 LM lighting and up to 16 million colors that you can change through the Govee Home app. The LED kit comes in two variants, a 16.4ft and a 32.8ft one.
The kit comes with adhesive backing and a set of 5 mounting clips. This makes them quite easy to install in your rooms.
The light strip can also be connected with Amazon Alexa and Google Home, allowing you to voice control the lighting. You can turn the lights on or off when you walk into an area and even control the color settings without lifting your finger. This feature makes them be on the top of the list of best LED lights for indoor use.
The LED kits also have an additional 'music sync' feature as well, which enables the lights to dance with your music.
It has two flexible 16.4-foot coils and requires 40 watts of power for optimal function. Use your smartphone to set up an hour of operation, or enjoy the sound-sensitive microphone, which signals the LED to change color through beats, clapping, and other sounds.
This is the best kit for those who want the most features, that too with 1/4th of the price of other LEDs. These LEDs have a ton of exciting features that can enhance your overall lighting experience. Big brands sell the LEDs with the same features at a much higher price.
The thing to keep in mind while buying the Govee LED Strip Lights is that they are not waterproof. So, these are good for indoor conditions. For outdoors, you should purchase LEDs that have an IP rating of more than IP67, which means that the LEDs will be protected against any solid or liquid object.
If you want to install your LEDs outdoors, you must purchase Waterproof LED strip lights instead of these. But, if you want LEDs for your living room, TV lounge, or bathrooms, these are the best.
The features and quality of these lights are the reason the product is on the top of our list of best LED strip lights for any room.
These features, along with an affordable price point makes these lights the winner in our list of best LED Strip lights for room.
These LED Strip Lights are the perfect decoration for a room or entertainment center. Includes two 25-foot flexible light strips, as well as several straight and L-shaped connectors, so light strips can be cut and applied anywhere.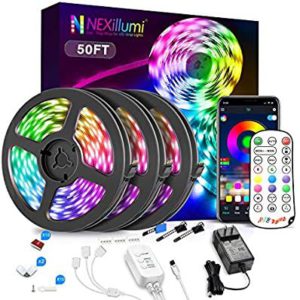 The LEDs have a built-in microphone in their switch. The lights can adapt to sound/music in your room and are a perfect fit for a party! See also Tiktok LED light strips.
Also, you can connect it with your Android/iOS device and use the different modes. Download the Ehome Light app for fully customizable color selection, response to music beats, and brightness optimization.
It also includes a remote control with the same functions, suitable for those who are uncomfortable with smartphone applications.
Apart from both of these cool options of control, the Nexillumi Strip Lights also has a three-button mini-controller instead of the conventional switch that connects it with the power supply. You can control the colors, brightness and can switch it on or off with it.
These LEDs are not that bright and that's why we recommend this for your interior. They will use less power and will provide you with a pleasant experience. But, keep in mind that these are for only those people who do not prefer bright LEDs.
Also, we have included the Nexillumi LEDs in the list of best LED strip lights for the room, because they are not waterproof and should better be used indoors.
On our list of 5 best LED strip lights for room, PANGTON VILLA LED strips are on the 3rd number. These are specially designed for TV backlighting.
This PANGTON VILLA kit has four adhesive strips for easy use. The 540 LM lighting is perfect for creating an atmosphere behind the TV while playing your favorite games or snuggling up to watch a horror movie.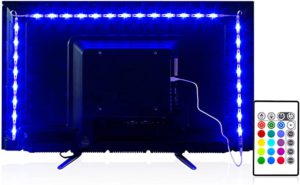 The kit comes along with a power supply that is UL certified, and the lights can be operated on a low voltage as well. Also, The LEDs manufacturer claims that the lights have a lifespan of 50,000 hours!
You don't have to worry about power requirements because the light strip is directly connected to your TV via a USB port. If your TV does not have a USB port, you can connect the adapter (included) to a power outlet.
Along with all of this, you also get Alexa/Google Assistant integration in the LEDs with a built-in microphone that enables you to control the LEDs with your voice commands. Change the color, the brightness level, or the mode with just your voice.
This kit also has the music sync mode enabled. So, if you enable it, the lights will change the color and literally dance to the music, giving you a next-level vibe in your rooms.
Choose from 16 million different colors or dim the lights with the included remote control. Please note that this light strip kit is only suitable for room lighting and not for outdoors because it's not waterproof.
Remember, these lights are also not waterproof. So, don't install them in a place where there's water or water splashes.
Also, be careful while installing the LEDs, and do not switch on the power supply while installing. This can result in a short circuit because the LEDs are not waterproof.
The 4th on our list of best LED strip lights for room is Lepro 50ft LED Strip lights. The kit consists of two 24.5ft light strips along with a power supply, IR Sensor Box, IR remote controller, and mounting accessories, and user manual.
While other competitors have 18-20LEDs per meter, the Lepro LEDs have 30 LEDs per meter, making them the brightest LEDs in the market right now. This is one of the most prominent features of Lepro LEDs, making the one of the best LED strip lights for room.
Lepro LEDs also have a bunch of other cool features such as an option to choose from 20 colors, and 8 illuminations/lighting modes that create a joyous vibe in your rooms.
The 8 lighting modes/patterns include quick flash, slow flash, auto flash, 3/7 color fade change, 3/7 color jumpy change, and R/G/B increase and decrease control.
Again, like all the other led on the list, these lights are recommended for indoors, where there is little water exposure and pressure of other solid objects.
Last but not least. 5th product in our list of best LED strip lights for room is Govee 32.8ft RGBIC waterproof Strip lights. This feature-rich product is from a company that is known to sell affordable, yet high-quality products and this one is no less.
We have kept this product as the last one on the list, because this, unlike all others is a waterproof LED lights kit. This means that you can also use them outdoors. This is what makes this unique from all the other products on our list.
The light strip can be controlled by the Govee launcher app, illuminating multiple colors on the same light strip at the same time. You can even use the built-in microphone to synchronize the lights with ambient audio.
However, the simultaneous multi-color lighting function means that flexible LED strips cannot be cut to fit like other flexible strips, so correct measurement is important.
Related LED Products We Love to Use