Top 5 Best TikTok Led Lights You Should Use
Want to make your TikTok videos look cool? Consider using LED strip lights to illuminate your background. We will share with you our list of the Best TikTok LED lights. These colorful LED strip lights will provide the perfect TikTok aesthetic for all your videos.
This colorful light can be adjusted to any shade you want, perfect for capturing eye-catching videos. Whether you want to hang them on the ceiling, put them on a shelf for a unique glow, or even put them in a drawer for a little extra light, these lights are stylish and affordable.
These LEDs are smart!
Most TikTok lights come with a companion app, so you can customize the color to your preference. With the special DIY options available to you, they also allow you to create crazy light colors that complement your video. Coupled with support for popular virtual assistants such as Alexa and Google Assistant, they seem to meet your needs.
More importantly, these smart lights also provide a convenient infrared remote control to ensure that the color control of indoor and outdoor shooting can provide you with smooth navigation. Well, these are just the tip of the iceberg, the collection of Best TikTok LED lights that we'll share have much more benefits.
Best TikTok LED light to use in 2021
Here's the list of the 5 Best TikTok LED lights that you should use in 2021.
Based on ratings (4.3 out of 5 stars in the nearly 4K rating), Goveee can easily claim to be one of the most popular TikTok LED strip lights on Amazon.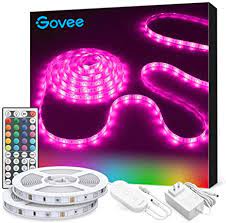 They are made of high-quality 5050 LED lights, which are durable and stylish in appearance. Even better, they also have 16 million colors, which can make your TikTok videos shine. This one clearly tops our list of Best TikTok LED lights.
Using Gove's companion mobile app (iOS and Android), you can adjust the color and brightness to your liking. With support for Alexa commands and Google Assistant, you can even adjust the lights using voice commands. Isn't that awesome?
The second LED in our list of Best TikTok LED lights, the IXPI LED ring light that comes with a tripod! If you do tons of TikTok videos, you'll appreciate this combination of an LED ring light with a tripod. The IXPI ring light is delivered with a tripod and a mobile phone holder.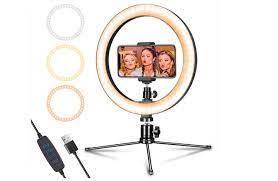 It will help you record amazing TikTok videos, take photos, and broadcast live whenever you want. You don't have to rely on the lighting conditions in the room as it will illuminate your face like the sun. And since you don't need to hold your smartphone, you can express yourself freely.
The light itself contains 120 bulbs that provide exceptional brightness. Offers three color modes; white, warm yellow, and warm white, each mode has 10 levels of brightness adjustment. Regardless of your skin type, you can shine in this light.
If you don't want to settle for anything less than a premium TikTok light, you shouldn't miss this Super Car EJ offering. Using the mobile application, you can freely control 16 million colors. To meet different demands, it offers multiple lighting modes such as step, cool, blink, gradient, and breathe.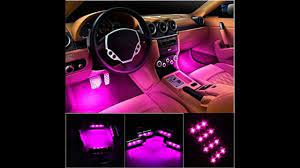 So it doesn't matter if you want to shoot a fun-loving TikTok movie or pick an action-packed clip, these lights can easily satisfy your taste. That's not all, the infrared remote control, waterproof design, intelligent music mode, built-in sensitivity, and fully adjustable microphone make it a universal LED light for TikTok.
If you are looking for a fairly good but cheap TikTok LED light, I recommend checking out MINGER LED Lights. Despite costing just $23, this LED strip is the right thing for the most part. One of its notable features is the ability to automatically change colors and speed. The affordability makes it be in the top 4 of our Best TikTok LED lights of 2021.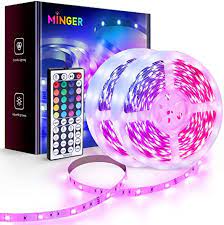 Besides, it also offers RGB (red, green, blue), 16 multi-color options, and a super cool DIY selection to allow you to create nice LED lighting for exciting Tikor videos. Moreover, it also comes with an infrared remote control that allows you to conveniently adjust the lighting.
Last but not least! The 5th spot on our Best TikTok LED light list, The Inkeltech LED lights. There is a lot to like about the Inkeltech ring light. First and foremost, it comes with a very handy infrared remote that lets you control the lights, adjust the color temperature, fine-tune skin tones, and even switch between cool white light and warm light to get rid of blemishes without having to use color filters.
Second, the SMD LED design coupled with 480 pieces of LED beads provides greatly improved lighting so your TikTok videos can look their best.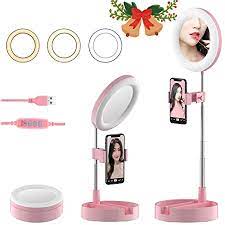 Third, the Inkeltech ring light comes with a 360 ° swivel phone holder and an extendable tripod that allows you to capture different brightness levels and lighting angles. In short, if you're looking for a complete TikTok lighting kit, look no further than Inkeltech.
Also, for LED Strip lights that are able to change colors and produce patterns that could be used as Christmas lights, for example, check out Addressable LED Strip Lights.
Related LED Products We Love to Use