Best Car Interior LED Lights
There are plenty of ways to modify your car, most of them being pretty expensive.
On the other hand, car interior LED lights are the most affordable way to modify the look and feel of your car.
Modifying the interior of a car is also way convenient than the exterior – because there are no legal restrictions.
And, out of all available options, using car interior LED lights for modification is the most affordable.
Changing/upgrading the seats, installing a new car mat, or spending on the detailing of the dashboard – all can cost you hundreds of dollars.
Car interior LED lights will give you a personalized vibe for less than a hundred dollars.
In this guide, we will educate you about the benefits of using car interior LED lights. We will also share our best pick with you.
Benefits of using car interior LED lights
Let's start by talking about the benefits of installing car interior LED lights first.
1. Personalized vibes for a cheaper price
Everyone wants a customized ambiance inside of their car. People have always tried to give their car interiors a personalized touch by modifying the seat, car mats, and other detailing.
These are all cool things, but they are also costly.
LED lights do the same thing, but cheaper. A kit can cost you between $40-100 max and will give you a joyful experience.
2. Make your rides joyous
Talking of a joyful ride, the ambiance LEDs create inside the car will never let you get bored.
The features, the colors, and the vibe makes every ride enjoyable.
Not having to sit in the dark and being able to see each other in the car without breaking any law is a nice-to-have for every individual.
Types of car interior LED lights
The car interior LED lights usually are in two variants/types. And, they are:
1. LED strips
LED strips are the most common type of Car interior LED lights. They are made out of tiny LEDs spread through the entire length of a strip.
They have a ton of exciting features and are easier to install than any other LED. Undoubtedly, they are the best and the most efficient source of lighting design for any place.
2. LED tubes
These tubes are similar to the strips, but they are round, and their light expands through the entire strip/tube. They are brighter, but they consume more power as well.
They are also hard to stick to the surface because of their shape as compared to the strips.
Some important tips while buying LED lights for your car interior
To let you make an informed and well-educated decision, we've shared some important tips while buying car interior LED lights.
1. Opt for LEDs with less power consumption
When you are deciding between alternatives, always opt for LEDs that consume less power. These LEDs will not only be light on your car's battery but also will be more durable than others.
2. Stay away from products that have a weak adhesive backing.
When buying car interior LED lights, check the reviews of the product. And, from any product review, if you find out that the adhesive is weak – you should stay away from that.
Remember, you can not install mounting clips or any screws in your car. The adhesive backing will be the only thing that will stick the LEDs.
It must be strong. Otherwise, the LEDs will fall off within a week.
3. Look for feature-rich LEDs
When installing LEDs lights for a room or for outdoors, we recommend opting for LEDs that are inexpensive yet get the work done.
But in this case, we recommend you opting for LEDs that are feature-rich.
When you're buying car interior LED lights, you're looking for lights that can enhance your experience. And, saving a few bucks at the cost of your experience is not a sensible decision.
4. Look for safety features.
While you are looking for feature-rich LEDs, the most important features in the list should be safety-related.
Select the LEDs that are waterproof, dust, and shockproof, and have the automatic turn-off feature to prevent battery drainage.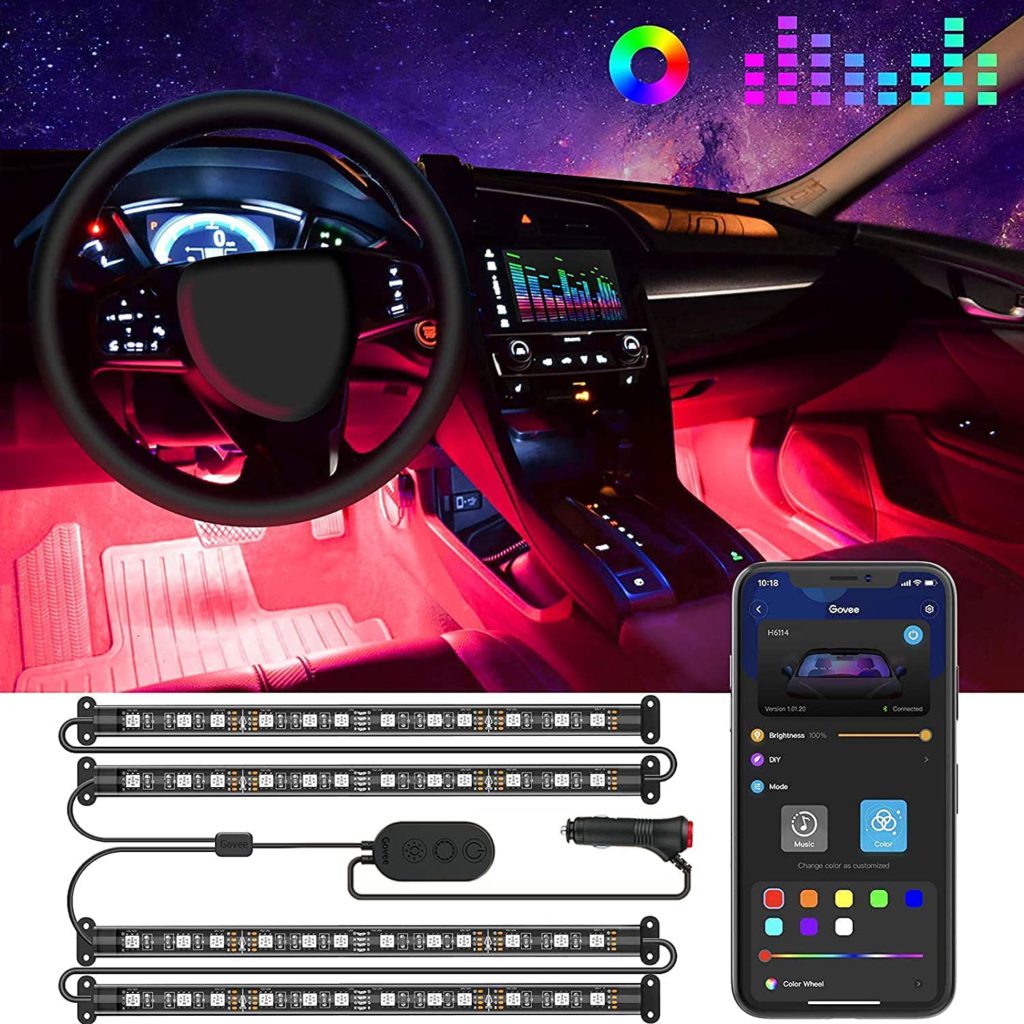 This automotive neon accent lights kit is a masterpiece from Govee.
The feature-rich LEDs have multiple exciting features and are undoubtedly the best car interior LED lights.
These waterproof LED strip lights are safe from any dust, water, or pressure.
These RGB led lights have this built-in DIY mode which you can control through their app and give your vehicle a different look.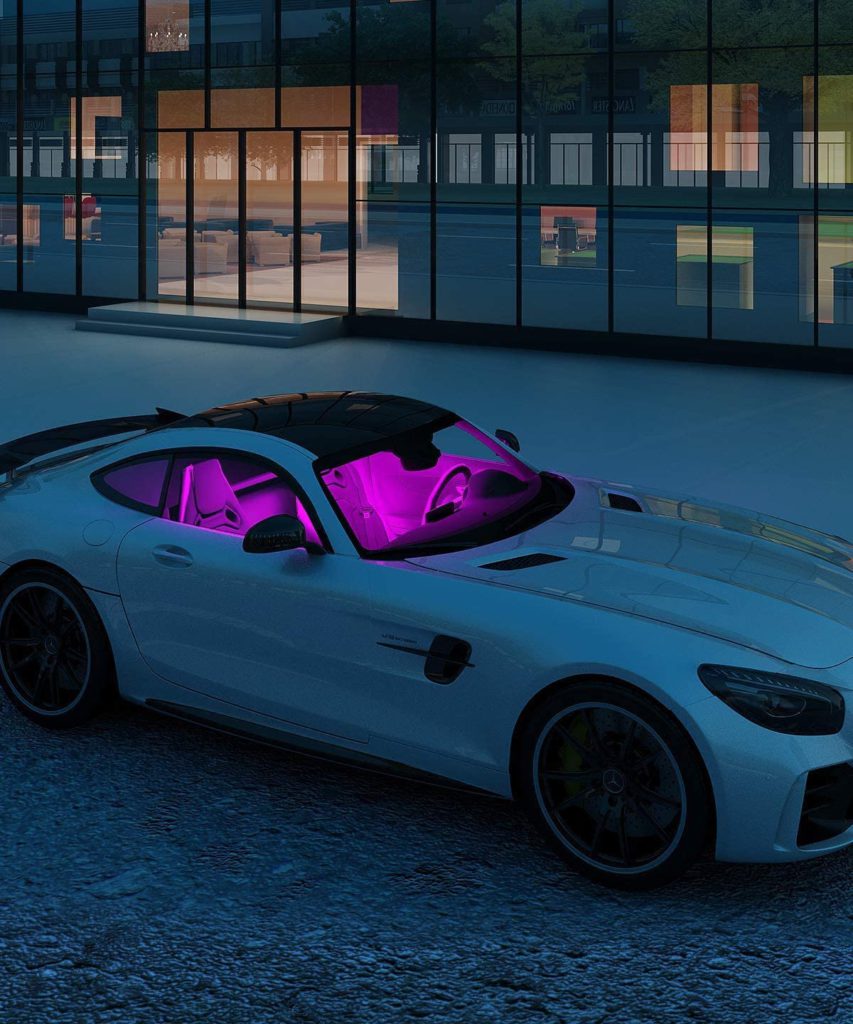 Not only this, the LED lights feature a dynamic music mode that helps the lights synchronize with the music and dance with it! It can give you an enjoyable ride you'd never forget!
As we discussed above, the LEDs can be integrated with Govee Home App. The app lets you control their brightness, color and switch the modes to fit your mood.
These LEDs have a flexible tubing feature that enables you to bend the LEDs in corners. Otherwise, you would have to cut the LEDs and then use connectors or soldering to adapt to the corners.
This kit can be installed without cutting any LED, and the adhesive backing is firm enough to stick in your car for a long time.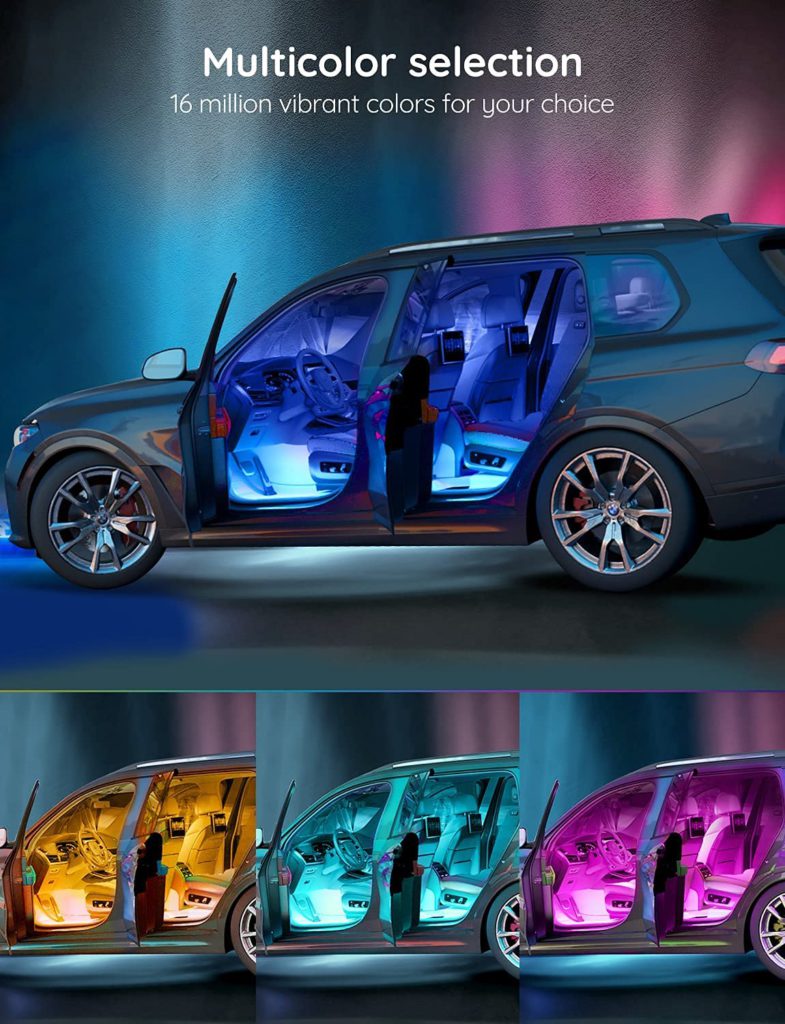 Govee also provides an RGBIC version of the lights, which has color-changing and color-chasing effects, that can enhance your experience even further.
You can install a power supply and power the LEDs with that. But, if you want to save your battery and power, you can directly power them with a cigarette lighter. 
You may also like a good Black Light LED Strip Lights for a cool effect.
How to Install LED Light Strips under Car?
LED light strips under car provide just a next-level aesthetic to your vehicle. The glow and vibe it gives are simply awesome.
For such an installation, we recommend using waterproof LED strip lights. Using non-waterproof LED strip lights under your car will be of no use.
Apart from the waterproof LED kits, there are led light strips kits that are specially for such use. These lights will not only provide you with good aesthetics, but they are durable.
But as cool as it looks, it is a tough process to install LED light strips under car. There are very few sources over the internet that talk about installing LED strip lights under your car.
But worry no more! We are sharing with you an easy 5-step formula that will help you install LED light strips under car in a matter of minutes. Here's the step-by-step process:
Clean the bottom of your car to make sure the LEDs stick for longer.
Unroll the strip, and set them under your car.
Look for openings like bolts or brackets to install zip-ties. It is highly recommended to use zip-ties for a strong connection. Since the surface will witness a lot of dust and water, you should not rely solely on the 3M adhesive. It will just not stick for long.
Extend the wire to the engine bay and connect it with the power adapter. Place the power adapter near the battery module, and connect them both.
Check to see if the strips light up and everything works as expected.