Addressable LED Strip Lights – The Ultimate Guide
Addressable LED strip lights have just changed the game of LED strip lighting. They bring more customization and control options into your hands.
LED strip lighting, which is already a dynamic lighting solution for your spaces, has become more feature-rich and exciting after the introduction of addressable LED strip lights.
The Addressable LED strip lights make it possible for you to apply effects to individual or group/groups of LED strip lights. These strip lights have special chips installed that enable them to show these effects. These effects are what makes them "addressable".
The addressable feature allows you to create different lighting effects on an individual or a set of strips. You can create attractive animations and create a custom vibe in your space with these addressable LED strip lights.
In this guide, you'll learn everything about these strip lights, and in the end, we will also share our "best picks" for the strip, controller, and power supply.
How do Addressable LED strip lights work?
In the normal LED strip lights, there are no Integrated Chips (ICs) installed. It's the dimmer or the controller that has such ICs installed and therefore, the effects are applied to each strip at the same time. Most regular LED strip lights do not even have effects like color-chasing. We also have a dedicated article on color-chasing LED strip lights that will help you understand how these effects are created with the help of these Integrated Circuits.  
In Addressable LED strip lights, however, there is an Integrated Chip (IC) installed on each LED. This is what makes it possible to apply effects on individual lights. The controller, including both the remote controller or an app controller, emits the signal to the dedicated LED; which then displays the effect. This is how these addressable LED strip lights work – in simple words.
Things to keep in mind when buying Addressable LED strip lights:
Since the addressable LED strip lights are a bit different from normal LED strip lights, you should pay attention to some extra stuff. In order to make an informed buying decision, you must keep these things in mind:
Power Usage or Voltage
If you want to install the strips outdoor or at any location where finding the power outlet can be a bit difficult, it is better to buy low voltage addressable LED strip lights. There are three variants available in the market, 5V, 12V, and 24V. When you install outdoors, your preferred power source will be a battery back, and for that, you should opt for the low voltage variants. Using battery-powered LED strip lights is a good option if you have problems with the location of the power outlet.
But, if the power outlet is not a problem, using high voltage LED strip lights is the recommended option. Why? Because if you use high voltage addressable LED strip lights, you wouldn't face a voltage drop. It will help you enjoy the feature-rich experience without any difficulty because the addressable LED strip lights are more power-consuming.
Nature of Installation
As we have said, the nature and location of your installation matter a lot. If you want to install the addressable LED strip lights in an outdoor setting, you must opt for waterproof LED strip lights.
Similarly, if the size of your installation is large, consider buying higher voltage LED strip lights because the lower voltage variants won't be able to sustain voltage over a large distance.
These things should be kept in mind when buying addressable LED light strips for your space.
Recommended Products
Knowing how these addressable LED strip lights work will not help you make an informed decision regarding the purchase of strips for your project. You need to ask people who have done good research about some products and can recommend you some as well. We've made that easy for you. Here's the list of recommended products if you plan to build a lighting project using addressable LED strip lights: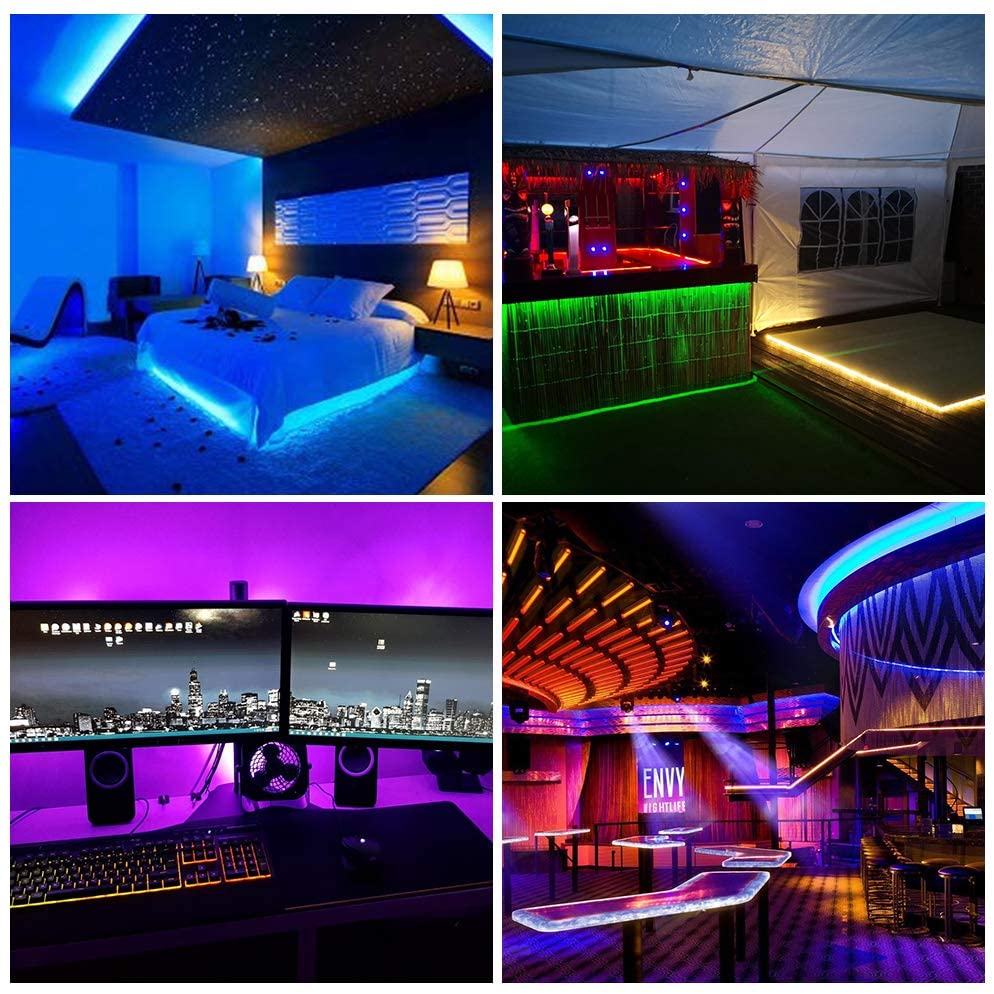 The addressable LED strip lights we would recommend are the ones from the BTF-Lighting store on Amazon. Not only do these lights have excellent reviews on Amazon but their features are exactly what everyone looks for in an addressable LED strip light.
Above all, these LED strips are 5V LEDs, so they do not consume much power as well. Do not use any 12V or 24V power supply with them, only use a DC5V power supply; it will work best with the LED strips. The LEDs are IP67 water-resistant meaning that they can survive water splashes as well. The addressable LED strip lights are also compatible with K1000C programmable controllers. You can use any controller that supports app control and control individual lights from your smartphone.
The 17-Key remote LED controller supports all Addressable LED strip lights including the 5V, 12V, and 24V variants. Even though the recommended LED strip lights support the mobile app-based controllers, but we would highly recommend using this remote control. Why? This has 358 modes. You don't get this number of modes in any mobile app-controlled LED controllers.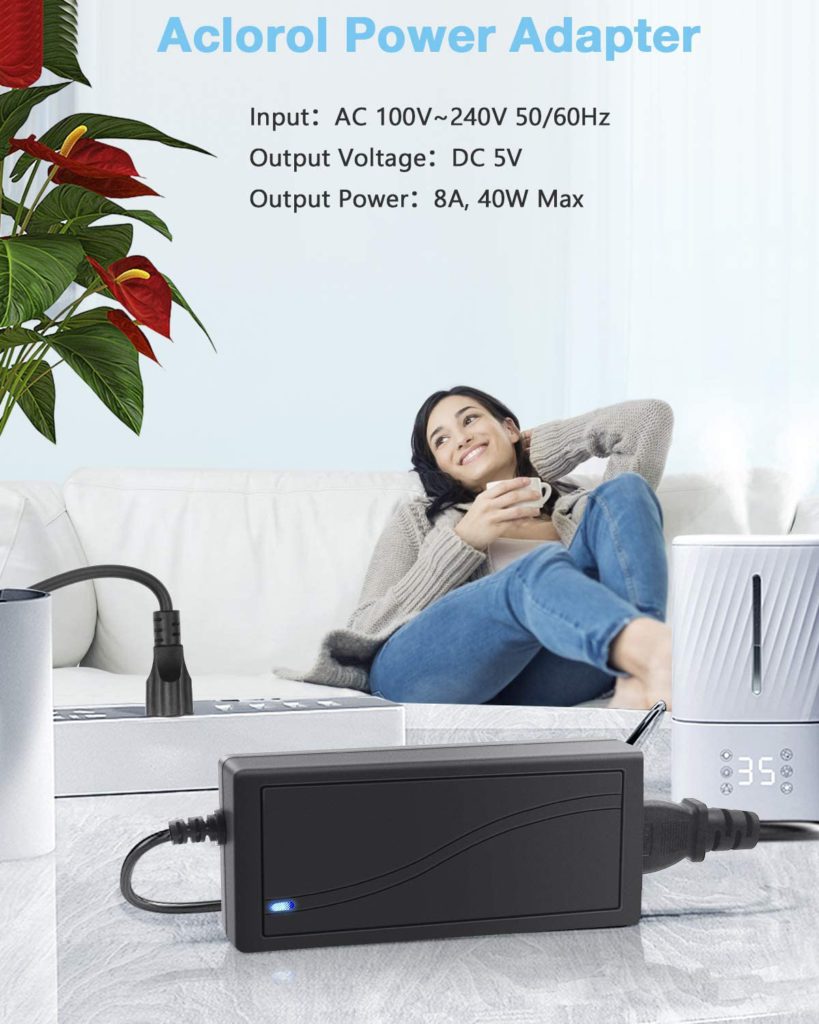 The Aclorol 5V power supply is the best fit for you if you wish to install 5V Addressable LED strip lights. The power supply has a ton of intelligent systems that protect your equipment from overloading or underloading. Even if your equipment will be safe, but you should not overload this power supply!
It only supports 5V equipment, and in our case, 5V addressable LED strip lights. If you use strips that are 24V or even 12V, the power supply will be damaged. Therefore, use this only for 5V strips.
Related LED Products We Love to Use